A New Identity
Peter Saville in conversation with Penny Martin
Peter Saville is an artist and designer whose contribution to culture has been unique. As co-founder and art director of the legendary independent UK label Factory Records, he accessed a mass audience through pop music, best exemplified in the series of record sleeves he created for Joy Division and New Order between 1979 and 1993. His many clients have included Roxy Music, Yohji Yamamoto, Pulp, Tate, Centre Pompidou, adidas and Lacoste, to name a few. Saville talks to Penny Martin, journalist and editor-in-chief of The Gentlewoman, about the new Burberry Monogram and logo.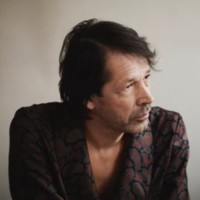 PM: What was the inspiration behind the Monogram? PS: The Monogram is a new way to write Burberry. There were some logo stamps with the 'TB' of Thomas Burberry in the archive. The final result is a combination of the 19th and 20th centuries – those historic flourishes give it its charm.
PM: How did you create the new logo? PS: We started by proposing 12 variations for the logotype, including taking a new approach to the utilitarian provenance of Burberry. Confident and functional, but with something a little kinky about it – it is a complete step change, an approach that taps into the heritage of the company in a way that suggests the 21st-century cultural coordinates of what Burberry could be.

PM: Tell us about what this collaboration means to you. PS: Burberry is one of the institutions of contemporary culture, and I felt honoured to accept the commission to design its new identity. We needed an identity for Burberry that was fluid – something to transcend the company provenance without denying it.
PM: What are your hopes for the legacy of this new identity? PS: People are interested in other codes of visual language, and the former distinctions between cultural disciplines are so porous that people talk about typography in the same breath as fashion, architecture or art. That we have finally reached this fluency across our cultural spectrum pleases me.